Redlands Upholstery Cleaning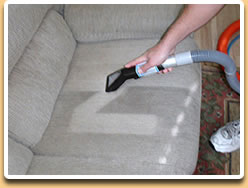 Redlands upholstery cleaning solutions that are proven to make a noticeable difference are within easy reach. As a matter of fact, if you have our contact information on hand, you can always take advantage of quality solutions. Redlands Green Carpet Cleaning knows the ins and outs of all of the different fabrics and materials that can come together to make a beautiful piece of upholstered furniture. This means that not only will we be familiar with what you have, but we will already have a solution in mind prior to starting the job. We are licensed and insured, so when you hire us for the job, you are protected. We have become the most trusted company around for upholstery cleaning in Redlands, California and rightfully so. We have worked long and hard to ensure that we are able to provide everything that customers are looking for. Let us know if you have a chaise with a pet stain you want removed. Let us know if your couch has an odor that just won't budge. Was your love seat sitting in storage for years? Have our professionals in Redlands upholstery cleaning take care of it for you. Whether you just removed furniture out of storage or are planning a big family get together, it would be wonderful to be able to enjoy clean, comfortable upholstered furniture once again. Make an appointment with us today, or call us to obtain any of the information that you need. We are always here to help out new customers.
Call us for your free price quote: (909) 784-2819
We get a lot of concerned potential customers who have important questions for us that they need answers to before hiring us. We understand. Some of those questions include:
Q: Is there any chance of my leather couch getting destroyed if I hire you for cleaning?
A: No. Our experts are the best in the industry and have undergone training and have years of experience under their belts. We will conduct a spot test before doing the full cleaning, and we are insured for your protection and peace of mind, too.
Q: I have a toddler in my home. Are your chemicals dangerous to him?
A: We utilize non-toxic solutions, but we will let you know if there is a certain amount of time that the child should be kept away from the furniture. We care very much about the well-being of our customers, and it shows. This is probably why locals come back to us time and time again for solutions like upholstery cleaning in Redlands, CA.
When you need trustworthy experts to provide upholstery cleaning in Redlands, California, you need Redlands Green Carpet Cleaning. You won't be disappointed with our results. Just ask anyone in Redlands. Upholstery cleaning is one of our most popular services. Find out why today!
Call us: (909) 784-2819